Most people would love to have a pool in their backyard or somewhere on their property. A place to relax in, exercise in, party in, let the kids get in a good amount of activity and cool off in the hot summer days. But while all of that sounds amazingly exciting, what is less thrilling is the cleaning and maintenance that goes into pool ownership. The water does not clean itself, the pool does not clean and repair itself, the chemicals do not magically hop into the pool.
It takes effort and time each week, and that effort is important for the health and safety of the pool users, and to ensure the pool has a good life span. Here we have some essential tips for weekly pool care chores that you need to carry out yourself or bring in a pool service in Turnersville or where you live to do them for you. You could of course also do a mix, take care of some of the easier chores and save a little money and then let the pool service in Mt Laurel or where you are, do the harder and more time-consuming tasks.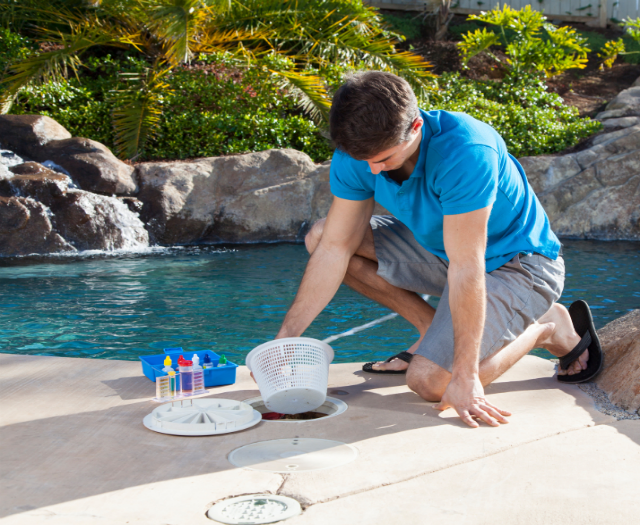 Key tips for looking after your pool include;
Every week you need to clean out the skimmer basket which is what collects leaves, debris, bugs, and even toys and is found in the swimming pool skimmer. If it overfills not only can it damage the pool's filter it can also damage the pool pump.
At least once a month, or more if you regularly have a lot of people using the pool, you need to check the pool's water levels. If it has dropped too much you need to top it up remembering to adjust levels of chemicals as well. In general, a pool service in Turnersville will recommend the level of water being at the skimmer's center.
Check the chemistry of the water a few times in the week during pool season and then still once a week at least even when it is off-season.
Once a week check the Chlorinator or Deck-Chlor to see if it is adjusted properly. Also monitor the flow at the same.
Clean the tiles wiping at least weekly not just for appearance's sake, but for a healthier pool.
Two or three times a year the filters need to be checked and cleaned so that you know the pool water is being kept clean.
Caulk any cracks you spot straight away using clear silicon as water getting into them damages the pool's foundation.
Check the pump and hair pot every 2 weeks or so to clean out lint. Be sure to switch off the pump first!
Summary
Pools require a good amount of care so get ready to do some homework and put in the time, or hire someone like a pool service in Mt Laurel to help. Having paid a lot of money for your pool you should do your best to look after that investment!
Swimming Pool 101: A Crash Course for Rookies